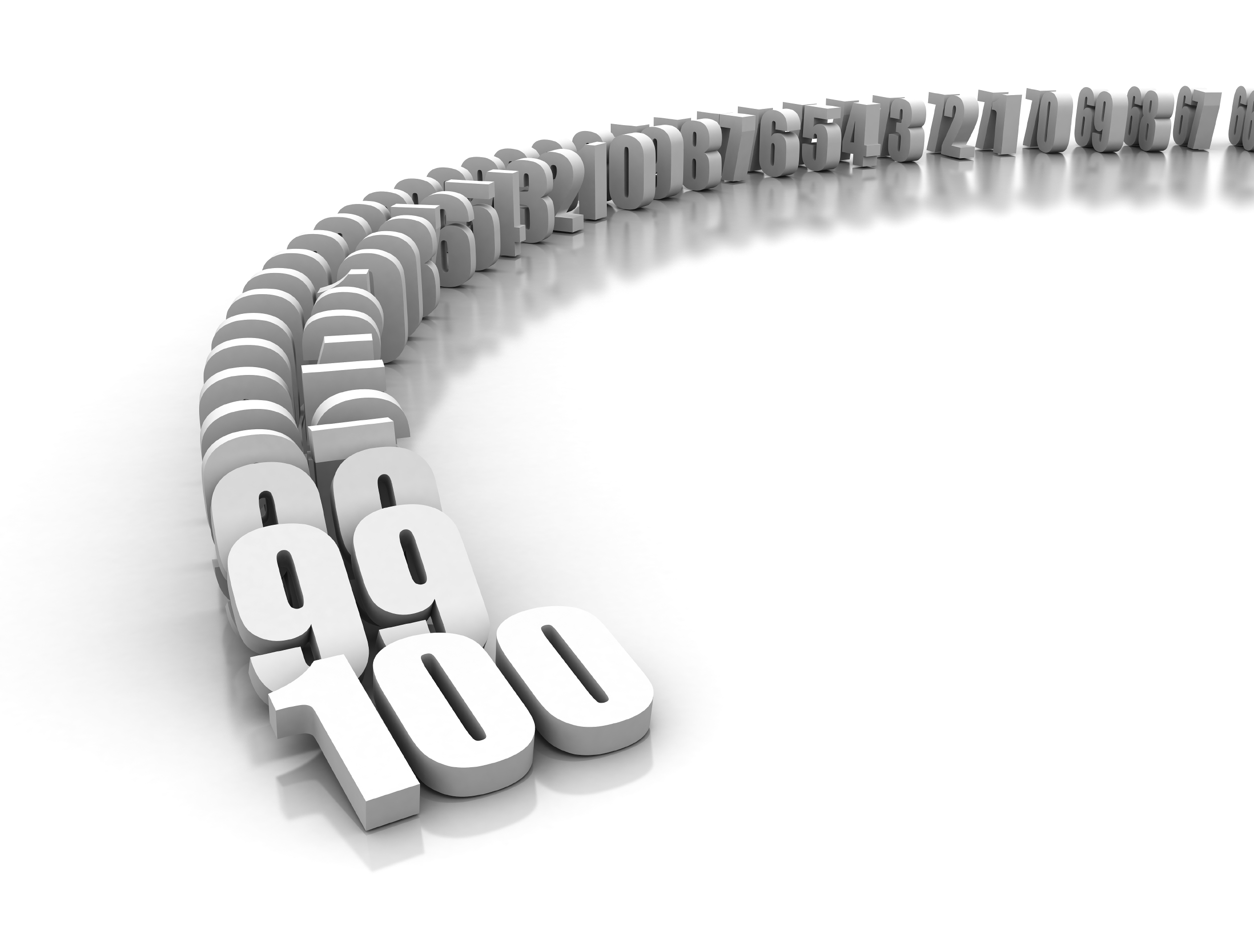 September 23rd is a special day for many reasons. It may be your birthday. It may be your wedding anniversary or the date you and your partner first met. It may represent the anniversary of a loved one who has passed away. While September 23rd is special for many people, it may also be just another day for the rest of you. That can change.

September 23rd has a special significance for all of us. It represents 100 days before the end of 2013.

I see this as a terrific opportunity to take stock of what you had hoped to achieve this year. On the one hand 100 days doesn't seem like much time, but on the other hand it is 100 days! A lot can be achieved in that time.
Below are a number of suggested personal achievements or significant tasks that could be achieved over the next 100 days. Use this list to spark your imagination. Write down the achievements that you will create over the next 100 days. If you would like to go one step further and create a plan for those achievements, follow the simple steps outlined in this recent article. Use my suggestions as catalysts for your own actions but try to have at least one specific achievement that you carry out from the six categories listed below.
Health and fitness
Lose some weight – and keep it off!

Go on a vacation

Visit your doctor and have a complete check up – even if you aren't sick

Complete a physical challenge such as a five kilometre fun run

Discover the power of meditation
Self-awareness
Complete an online personality profile tool and share your results with someone you trust

Consciously put your personal values into action and ask a trusted friend to give you some feedback

Challenge yourself to do something that you've always told yourself you couldn't do, especially if that something is something that deep down you'd really like to be able to do

Consciously help someone else on their journey toward greater personal success

Offer to take a photo for a group of tourists so that they can all be in the photo
Career
Make sure that you complete your work projects and or major tasks to the best of your ability

Thank someone who normally doesn't get recognised for the contribution that they are making to your workplace (cleaners are a great place to start!)

Set some clear goals for the conference you will be attending and make sure that you achieve them

Update your resume

Participate in three LinkedIn Group Discussions on relevent topics
Life-long learning
Turn your car in to a 'mobile university' by only listening to audio books and other educational material when you are driving (Research by the Harvard Business School indicates that the average person spends between 500 – 1000 hours traveling in their car each year. If this time was spent listening to high quality learning  material, a person could learn the equivalent of a post-graduate business degree in just one year – not bad for people who say they don't have time to learn!)

Read at least one business book to help you with your career development ('Leading on the Edge' is a terrific 'how-to' leadership book by first time Australian author Rachael Robertson, leader of the 58th Australian Antarctic Expedition)

Do some research on healthy cooking

Commence learning a musical instrument

Volunteer to coach a junior sports team as a deliberate strategy to start working on developing your leadership skills
Finance and wealth (please seek professional advice for any activities in this section)
Complete your tax submissions for the most recent financial year

Book in a chat with your financial advisor

Draft a budget for 2014

Review your expenditure to date for the 2013 calendar year

Review your retirement strategy
Relationships
Consider the most important people in your life. Identify one thing that you could do for each of those people to let them know how much they mean to you and do it!

Go on a date with your partner

Call your friend who lives on the other side of the country or another part of the world

Book in a coffee with your mentor and prepare something to focus on during your conversation

Help cook some sausages to help your local school raise some needed funds for a specific school development project
How are you going to make the most of the last 100 days of 2013? Sometimes simple lists can act as powerful motivators. When you 'tick' each item off your list you feel energised and powerful. You have clear evidence that you do get things done.

It's just 100 days. Give it a try and be amazed at what you can achieve!
Gary Ryan enables organisations, leaders and talented professionals to move Beyond Being Good.