Whenever we have a meeting the table is always shaking. John seems unable to stop his leg from jittering.
Mary never puts her coffee cup away after she washes it. She leaves it on the sink for someone else to put it away. It's so annoying!
Hun mumbles every time he speaks. I really can't understand him. I wish he'd speak more clearly.
Every Monday morning Janet wants to tell me about the weekend achievements and dramas of her three children. When will she understand that I'm really not that interested!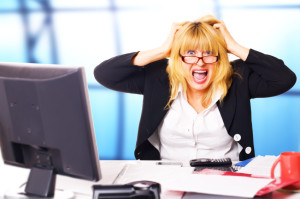 No doubt you have these thoughts and feelings from time to time about your colleagues. Working with and getting along with other people is not always easy. Sometimes it is downright difficult. In fact, sometime these annoying behaviours can really drive you crazy!
Your challenge is when these little things become your focus. After a while it is all that you can see these people doing and that means that eventually you see the person as being 100% annoying. When this happens it is difficult to stay a high performing team. Group dynamics have a direct impact on team performance and your attitude toward your colleagues impacts team dynamics.
What can you do if you find yourself in this situation?
Success Magazine founder and editor Darren Hardy has a suggestion for your personal relationships when they start to become annoying and his strategy is just as useful for workplace relationships.
Use a notebook and write your colleague's name at the top of the notebook. Each day for a month find something good about that person to write in your notebook. Train yourself to see the good things they do. Your list can contain work tasks that they do well or other contributions that they may be making around the office. As you add notes to your list, run your eye over the entire list.
Soon their 'annoying' behaviour won't be all that you see when you look at this person. Your focus will have changed.
Taking this action won't change the person's annoying behaviour. Rather, it will help you to see that they are not 100% bad. In fact you'll likely see more good than you have ever previously noticed. Your new insights about them will change your behaviour toward them. They will react positively to your behaviour and your workplace relationship and dynamics will improve. Most importantly you'll be able to continue to work as a high performing team.
If you don't believe that this strategy works then give it a go. My bet is that after only one week you will notice improvements in your workplace dynamics.
Gary Ryan enables organisations, leaders and talented professionals to move Beyond Being Good.