A 15 year old boy (let's call him 'John') recently commenced work for a multi-national fast food chain in Australia. He is a delightful young man, having been recognised this year by his secondary school as the most outstanding student for his year level, as well as being awarded the most outstanding player for his Australian Rules Football Club in 2014. His peers have elected him Captain of his football and cricket teams for the past two seasons. He really is a terrific young man.
Given his qualities he was assigned to front counter duties. Two months in to his new job he received a text message from his shift manager from the previous Saturday shift requesting he meet with her at 5pm to discuss an error with his till. He received the text message at 4:30pm. It was a Tuesday. He replied and said that he would be on site as soon as possible.
He arrived at 6:30pm. He was informed that his till had been down "about forty dollars", that the CCTV video footage had been assessed and that it was clear he had not stolen the money, but because of the amount that his till had been down he "had" to be given a written warning, which he was compelled to sign.
The three major sections of the written warning are provided below: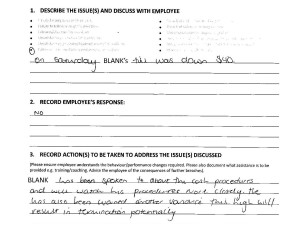 Note the section, 'Record employee's response.'
What does the word, "No" mean?
Given I know this young man, I did some investigating. He told me that despite the policy that only one till be handled by a single staff member, and that each till be opened and closed according to each person's shift, this was not what he had experienced in his two months working for the organisation. In every shift he had worked, including the shift in question, his till had been used by other staff, including the shift manager. In fact, during the shift in question, the shift manager and at least one other staff member had used 'his' till during the shift. In addition, a staff member had slipped and suffered a suspected broken ankle during the busy lunch period and an ambulance had been called to attend to the staff member.
Having worked as a young man myself on the front counter for a fast food chain I found it easy to imagine a fairly hectic scene. The sort of scene where, if a mistake was going to be made, this is when it would be made.
I asked him about his recorded response to the second question above. He said that when he told the shift manager, who was leading the investigation (the very same shift manager with whom he had worked during his shift – it seems that for this organisation closed loop investigations for missing cash are the order of the day) that other staff had used his till, the shift manager said, "No. I have checked the CCTV footage an no one else used the till."
He said that because he had seen his shift manager use his till, and she had denied it, what could he do? He was then asked if he had anything to add and he said, "No.", which is why that was recorded as his response.
When I spoke with him he was completely unaware of the serious nature of a written warning and because of his desire to 'do the right thing', had thought that he should simply sign the document and move on. His shift manager had told him that she had received a written warning when she had started working for the organisation but it hadn't stopped her from becoming a shift manager, so it wasn't a very big issue. But, it is a big deal. A written warning is about as serious an issue that an employee can experience.
His father immediately understood the serious nature of the written warning and visited the site to speak with the shift manager. He was calm and wanted to understand the process that had been followed. He was informed that the missing amount was "$44.65", that his son had definitely not stolen anything and that the CCTV footage of his shift had been observed and no one else had used his till. The following day, John's mother also attended the site and observed a busy lunch shift and noted multiple staff using multiple tills. The one till per staff member was just a policy; it was not reality.
From the start of the issue, John was open to the possibility that he had been the one whom had caused the error. However, he couldn't remember making a mistake and given that other people had, from his perspective, used the till, he believed that there was enough doubt about who had made the error that it felt "pretty bad" that he had received a warning. He also said, "It is pretty clear that I am just a number. They really didn't want to hear what I had to say and I was guilty and had to prove my innocence; not the other way around."
There are times in life when you just have to go straight to the top. Encouraged by his father, John contacted one of the owners and asked to speak with her in confidence. John was concerned that if he spoke up about his experience and if it wasn't confidential, then he risked being 'victimised'. Fortunately, the owner was happy to speak with him in confidence and was willing to accept his version of the story, partly because she told him that the missing amount was actually $41.25, not $40 or $44.65. How the actual number was not properly communicated is anybody's guess. His written warning was changed to a file note that was to include the fact that other people had used his till. Personally, this still doesn't seem a fair outcome.
The owner asked John if he believed the shift manager had viewed the full three hours of his shift. He told her that he didn't think that the shift manager had, simply because he didn't think she would have had the time to do so based on his experience of seeing how busy they are every shift.
Despite her decision, the owner informed John that the one till per person was the corporation's policy that the franchisees were expected to follow it.
It seems to me that at no stage, other than when the owner of the business spoke with John, that his welfare had been considered. And this is what happens when policies, generated by head office, don't work in practice.
Boxes might get ticked. Reports may get filed. Written warnings may be issued. And it is all an illusion that people use to report on how well everything is going. Even when, in reality, it isn't.
John said that serving the customer was paramount which is why multiple staff would use the tills during a shift. He also said that the shift managers didn't appear to have the time to ensure that a till was opened and then closed at the book-ends of a shift. While he had been taught these policies during his induction, he had quickly learned that in reality they don't work.
However, those very policies were used to initiate a formal, written warning.
I share this story with you so that you can think about your policies. Which ones are being 'worked around' by your staff because they simply don't work. Or, if you are really serious about your policies, are you prepared to receive the customer backlash that will be caused by the reduction in service that your policies will generate? Your challenge is to create policies that are both customer and employer friendly.
It's a pity that John has had his experience. He shared with me that he didn't feel as excited about working for this organisation anymore. Surprise, surprise!
It only took a global corporation two months of casual shifts to teach a fine young man that he doesn't really matter to them. And isn't that a pity.
Gary Ryan helps talented professionals, their teams and organisations to move Beyond Being Good®.