Life Balance should be judged over a year. Not over a day. Not over a week and not over a month!
Hopefully you are using the festive time of the year to take stock and re-energise. Reflect on your successes, achievements and challenges from 2013 and then look ahead to 2014 and beyond.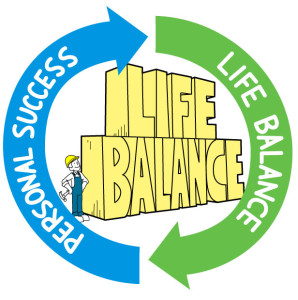 No doubt many of you have created New Year Resolutions. If creating more Life Balance is one of those, here are a few tips to help you achieve that goal.
1. Understand that in creating Life Balance you have many periods of being 'out of balance'
When you judge your Life Balance over a year you will be okay with the fact that at various stages you will be 'out of balance' for periods of time. If you have been in a job for a while, or are studying then you will know the peak periods for your work or study. During these periods going on holidays is out of the question and your social life may take a backward step too. This is okay. Take note of when those 'busy' periods will be occurring and plan for them. In doing so you can be proactive with your friends and let them know that you may be hard to catch for the time that you have identified.
2. Book and pay for holidays in advance
I learned this tactic back in the late 1990s when I was suffering from overwork and fatigue. At that time of my life I used to wear my unused holidays as a badge of honour. "Look everyone. I work so hard I haven't taken holidays for years!" As it turned out it was a silly view of the world to have as I was tired and lacked the energy to do my job properly. A good friend explained to me how he managed his energy by booking for and paying for his holidays in advance. That way both he and his family had something to look forward to throughout the year and because the holiday had already been paid for, it actually happened!

In activating this tactic I also learned that amazing deals are on offer providing you book and pay during the Xmas – New Year period (your holiday doesn't have to be during this period, you just have to have booked it for some time during the year and have paid for it). This has literally saved me thousands of dollars – which contributes to the financial aspect of my Life Balance too!

3. Set physical goals
Lots of people set weight loss goals at this time of year. Unfortunately most people don't get anywhere near their target weight because a specific weight is the wrong goal to have as your main goal. It is far better to set a goal that involves the achievement of a physical activity such as playing a sport on a regular basis, completing a hiking holiday or  completing a 20 kilometre walk. This year I will be supporting my wife Michelle as she prepares for her third Oxfam 100 Km Trailwallker in May. As one of her training partners I will be doing a lot of walking with her.
To enhance this tactic have 'rolling goals'. Set multiple goals that will require you to have to keep fit so that you can achieve them. This helps to cut the risk of achieving a physical goal and then slipping back into bad habits after the goal has been achieved.
Use these three tips to help you to create the Life Balance that you desire. If you would like to learn more about creating Life Balance please visit here.